SCKShare:
Free LAN file transfer utility
SCKShare is a free, open-source, multi-platform, LAN file transfer utility that makes transferring and sharing files between computers on the same LAN easy. It features an automated peer discovery function that automatically finds computers on the same network without having to memorize IP addresses and hostnames. All available files being shared by other machines on the network are then listed (see screenshot below) and can easily be downloaded by highlighting them and clicking "Download". The interface is very simple and intuitive, so users who are not experienced at using other file transfer programs will find SCKShare easy to use.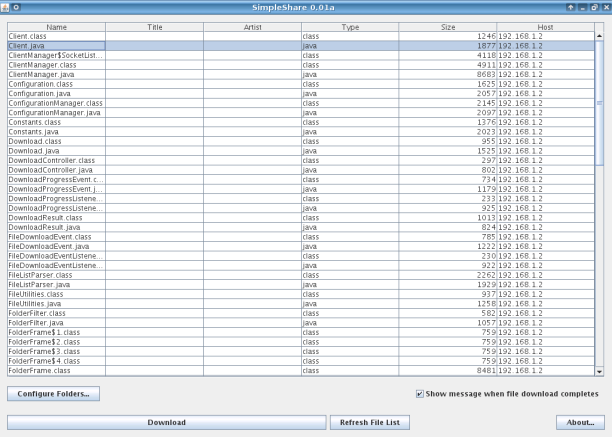 Some particularly exciting features and uses of SCKShare are:

SCKShare finds all machines on the network running the program and displays all available files in a sortable list
Users can select which directories to share, and SCKShare will scan all files and subdirectories and share those files
SCKShare parses ID3 tags on MP3 files and displays the artist and title on the file list
SCKShare listens on all (including virtual) network interfaces, so users can use SCKShare to transfer files to/from virtual machines and the host machine by running SCKShare on the host machine and on the virtual machine
To download SCKShare, click "downloads" to the left.
---
SCKShare, by Corey J. Bonnell